EMERGENCY INFO
There's no easy way to plan for a dental emergency, but you can trust that Dr. Wilson and his team are committed to your health ― no matter what time of the day or night. If you are a current patient with a dental emergency after regular office hours, call (620) 665-5200 or (866) 659-2343 and follow the prompts. Dr. Wilson will call you back as soon as possible.
---
OFFICE HOURS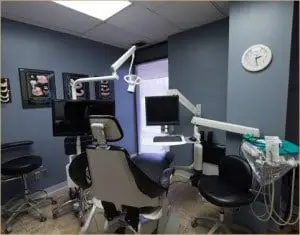 Dr. Wilson and his team know your time is important. You can look forward to care that is delivered as professionally and quickly as possible.

Our office hours are:
Monday – Thursday 8:00 a.m. – 5:00 p.m.
Friday 8:00 a.m. – 12:00 p.m. (Front Office Only)
Call (620) 665-5200 to schedule your appointment.
---
YOUR FIRST VISIT
Your first visit with Dr. Wilson is an important time to get to know your new dental team. At your first appointment, Dr. Wilson will perform a careful, gentle, and complete periodontal evaluation, which lasts about an hour.
This includes:
X-rays (if needed)
Dental impressions for study models (if needed)
An oral cancer screening
A thorough discussion with Dr. Wilson about your diagnosis and your possible treatment options
An opportunity to have your questions and concerns answered
Note: For complex cases, a second consultation is necessary following Dr. Wilson's meeting with your general dentist in order to develop your treatment plan.
---
SCHEDULING INFORMATION & HOW TO CONTACT US
Dr. Wilson is available Monday through Thursday from 8:00 a.m. to 5:00 p.m. Your appointment will be scheduled as promptly as possible. In the event of dental pain or an emergency situation, every attempt will be made to see you that same day.
It's important to keep in mind that while every attempt is made to stay on schedule, occasionally some surgical procedures can take more time to complete than anticipated, or a referral of an emergency patient can cause delays to the schedule. Your understanding and patience are very much appreciated.
You can help make the process more efficient by providing the following information at the time of your initial visit to the office:
Your referral slip and X-rays from your referring dentist. If your referring dentist has taken X-rays, you may contact your dentist to request that they be forwarded to Dr. Wilson's team.
A list of medications you are currently taking (you will be mailed a patient registration and medical history form to fill out in advance of your appointment).
Any forms or insurance cards if you have dental insurance.
Please notify the office prior to surgery if you have a medical condition or concern (e.g., blood thinners, artificial heart valves or joints, heart murmurs requiring premedication, severe diabetes, or hypertension).
All patients under 18 years of age must be accompanied by a parent or guardian at the consultation appointment.
---
FINANCIAL OPTIONS
You can pay for your office visits at the time of treatment with the following options:
Cash
Check
Credit or debit card
We also accept most major dental insurances and CareCredit™. To discuss your payment options or your insurance coverage, please call 620-665-5200 or 866-659-2343.
Dr. Wilson and his team make every effort to reduce the cost of your periodontal and dental implant care. To keep the cost of billing down, please make your payment at the time of your office visit. If you have any questions, please ask our office manager.
While office financing is not available, the business team will assist you in establishing payment arrangements with companies that offer medical-dental treatment financing plans. Some plans provide financing for up to 7 years, much like a car loan.
CareCredit™
3-, 6-, 12-, or 18-month, no-interest payment plans, as well as low interest and extended payment plans, are available through our financial partner, CareCredit™.
Insurance Assistance
As a courtesy, your insurance claims will be filed for you. In order to submit an accurate claim, it is important that you keep us informed of your current insurance information.

Please note that many insurance companies do not provide fees until after the treatment is completed. So, it is sometimes difficult to accurately estimate your insurance co-payment before treatment is rendered.
Upon receipt of an insurance payment, any balance due is billed to you. A refund is issued when you have a credit balance.
Dr. Wilson is a contracted preferred provider with the following insurance companies:
Delta Dental
Blue Cross and Blue Shield
Cigna
Guardian
Aetna
View the below video for more information on financial options.